ChatGPT on WhatsApp
Talk to AI🤖 on your WhatsApp
MobileGPT🤖 is your personal AI companion on WhatsApp! Powered by the latest OpenAI GPT3-Turbo and GPT4-Turbo, MobileGPT is your personal AI assistant that can code, create images, documents, teach you any subject and much more.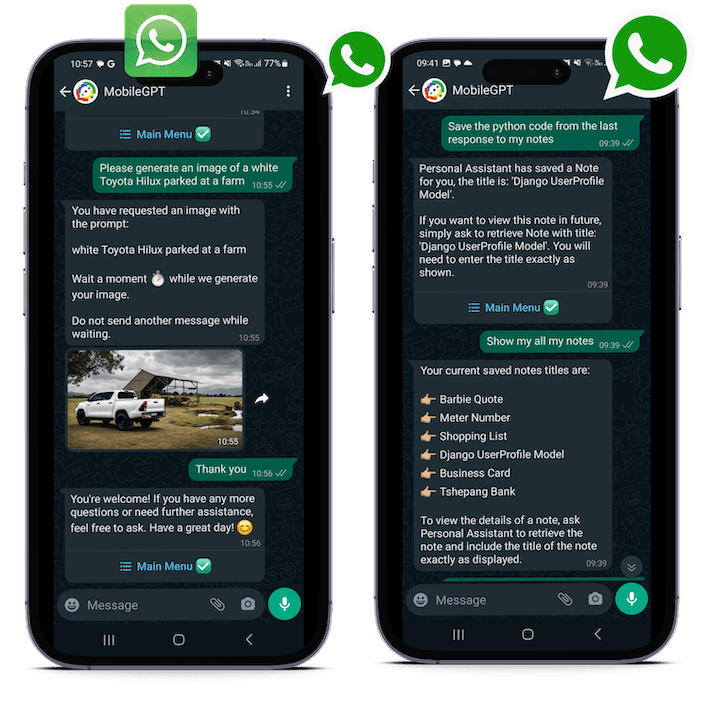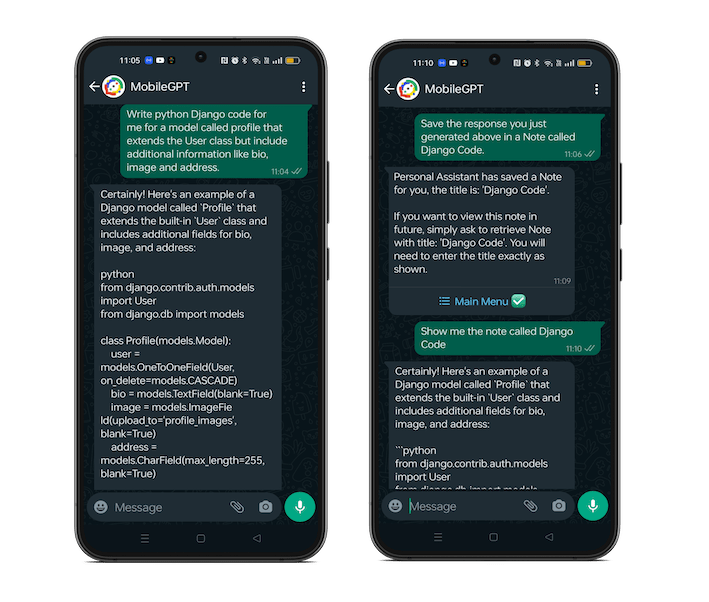 AI Conversation Chatbot
Talk to MobileGPT like your smart best friend, get information, do language translations, do math, generate content, and even write code - directly from WhatsApp.

Save notes - whether it's a previous output or your shopping list on MobileGPT. Ask MobileGPT to remind you to do something, and you will get a message reminder.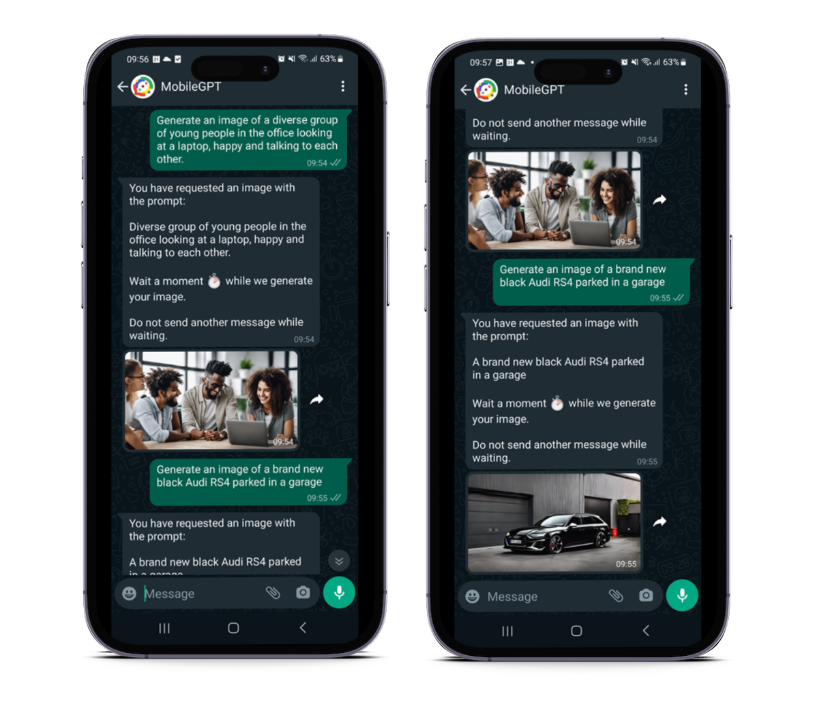 Generate images on the go
Creating stunning, photorealistic images is now effortless with MobileGPT. Simply send a prompt through WhatsApp and receive high-quality images right in your chat.
Leveraging the advanced Stable Diffusion XL 1.0 model, MobileGPT ensures each image is of exceptional quality, tailored to your specifications. The chatbot is intuitively designed to understand the desired orientation of your image, but you also have the flexibility to specify it in your prompt.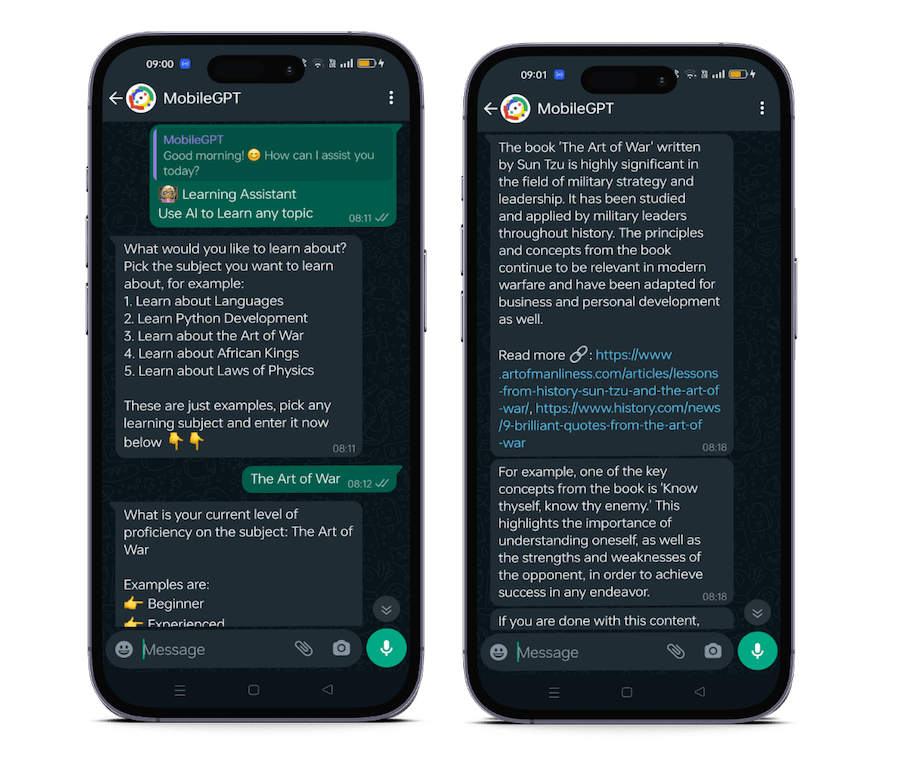 Your Personal Mobile Teacher
Learn about any subject from Academics, Coding, Books, Science, History, etc. If you need to learn in, MobileGPT can teach it. Lessons are a combination of content, links, practical examples and quizzes.
Learn at your own pace
Learn from anywhere on WhatsApp
Get extra reading links
Smart quizzes after every section
Get a mark after every section
Great way to pass time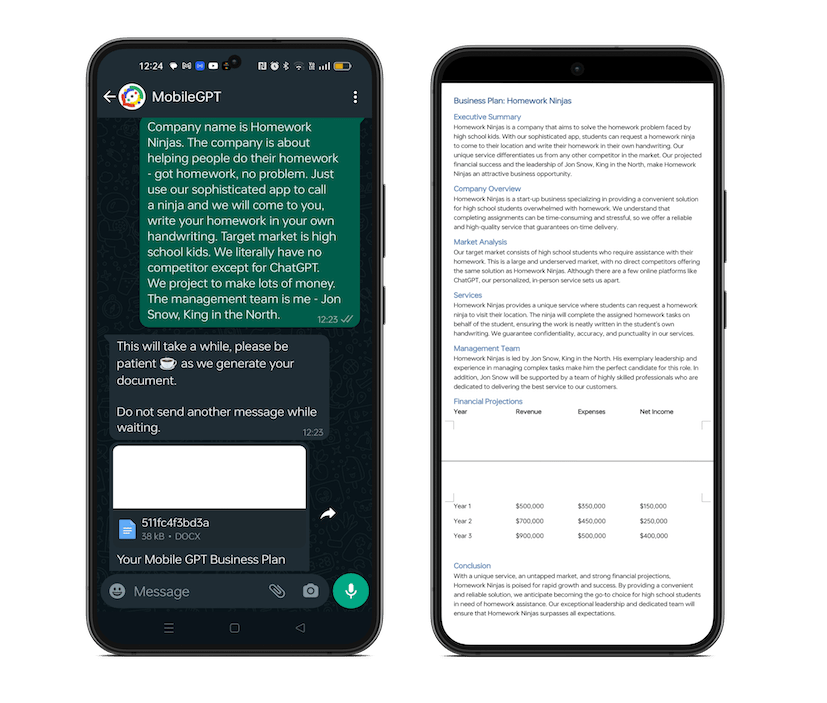 Advanced AI Documents
Imagine generating a full business plan in just one minute using AI. Just provide MobileGPT with your business information and wait for it to create the document and send it back to you on WhatsApp in Word format.

There are no templates, which means the types of documents that you can generate are endless, from resumes to letters and reports.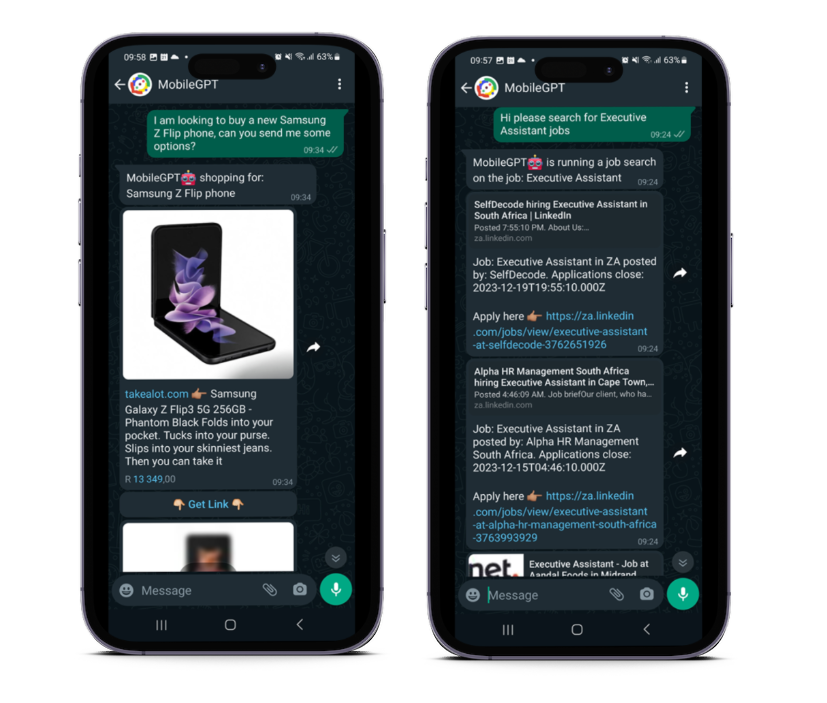 Convenient Mobile Assistant
Did you know MobileGPT has built-in 'Magic Commands'? In the normal conversation mode, you can get assistance with shopping, searching for jobs and even books, just ask. Example magic commands:
I am looking to buy a new Samsung Z Flip phone, can you send me some options?
Hi, please search for Executive Assistant jobs
Hi, please send me the latest business news
Can you find a copy of the 'Art of War' book online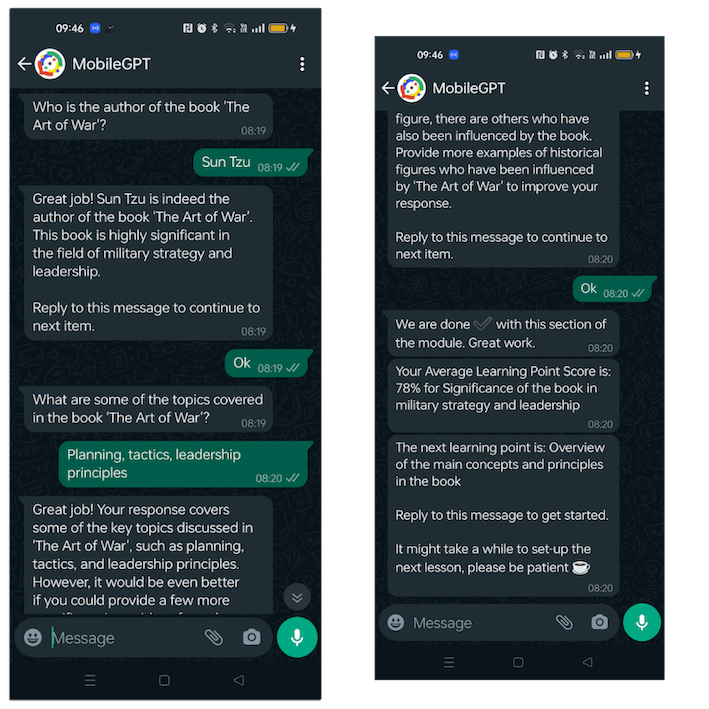 Personal 👩‍💻 Learning Assistant
Looking to learn new skills, a new language or just want a tutor to take you through a book or topic? Now you can with MobileGPT🤖 AI Personalised Mobile Learning Assistant
Learn Anytime, Anywhere
With your very own learning assistant on your mobile 📲, you have the flexibility to take your lessons wherever you go and study at your own speed.
Quizzes with Feedback
Every lesson includes a quiz to assess your understanding. To help you remember the information better, MobileGPT will give feedback and assign a grade.
News, Jobs, Shopping 🤩
Your WhatsApp can now become your shopping assistant, help you look for jobs and deliver you the latest news with links.
Increased Productivity
Do your shopping directly from WhatsApp. Get prices, links and product descriptions. Shopping is geo based, so you get products based on your location.
Up to date news
You can search for "business", "science", "sports", "entertainment","health","technology" news with one command.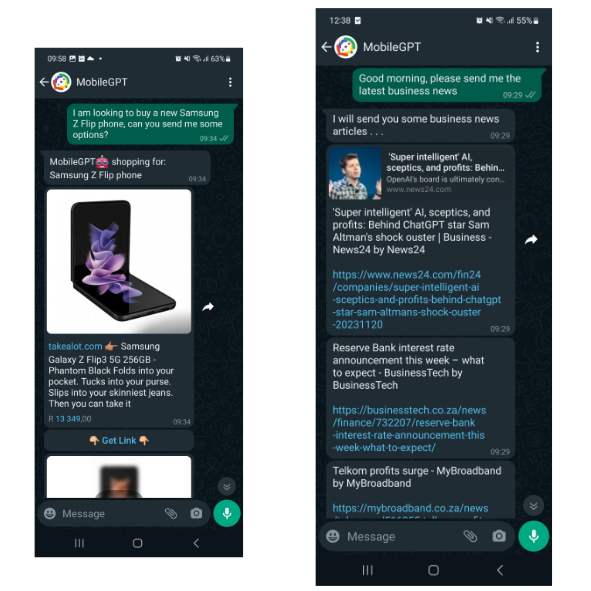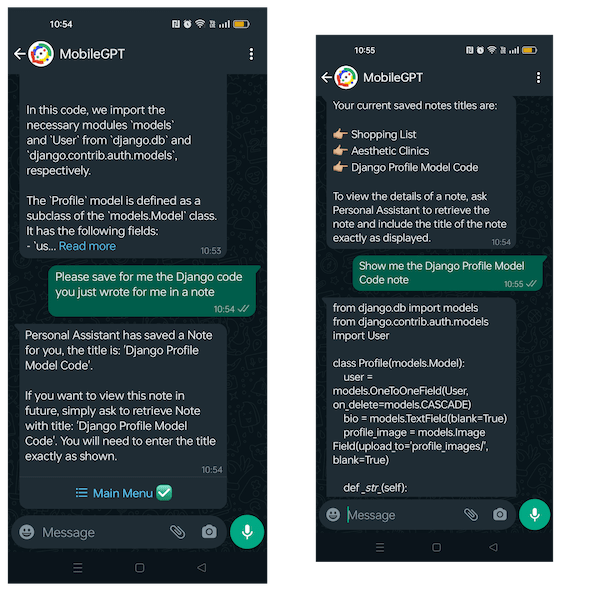 WhatsApp📱 Notes & Reminder
Ever had the urge to jot something down but couldn't find a pen? Well, now you can rely on MobileGPT🤖 to take care of all your mobile note-taking needs instead with the new note taking functionality!
WhatsApp Reminders
Just ask MobileGPT🤖 to remind you of something, give it a date and time. You will get a WhatsApp reminder when your task is due.
Save Important Notes📒
Whether its an insightful response from the ChatBot or just your grocery list, get MobileGPT🤖 to save it as a note.
MobileGPT🤖: AI-Powered Document Generation 📄
Say goodbye to templates – just tell the AI the type of document you want, like resumes, business plans, or reports.
The AI then prompts you for the necessary information and crafts a tailor-made, professional-quality Word document from scratch.
Enjoy unparalleled accuracy, coherence, and engaging content customized for your needs. Streamline your projects, enhance productivity, and embrace the next generation of document generation with MobileGPT🤖!
Chat 💬 with MobileGPT🤖
Accurate Content 🔍
Rely on AI-generated content that's relevant, well-structured, and coherent 🧠
Time Saver ⌛
Create comprehensive Word documents, boosting productivity and efficiency 🚀
Versatile Document Types 🌐
From resumes and cover letters to business plans and marketing strategies, MobileGPT🤖 handles it all.
Consistent Formatting🔧
Maintain a professional appearance with AI-generated, consistently formatted documents.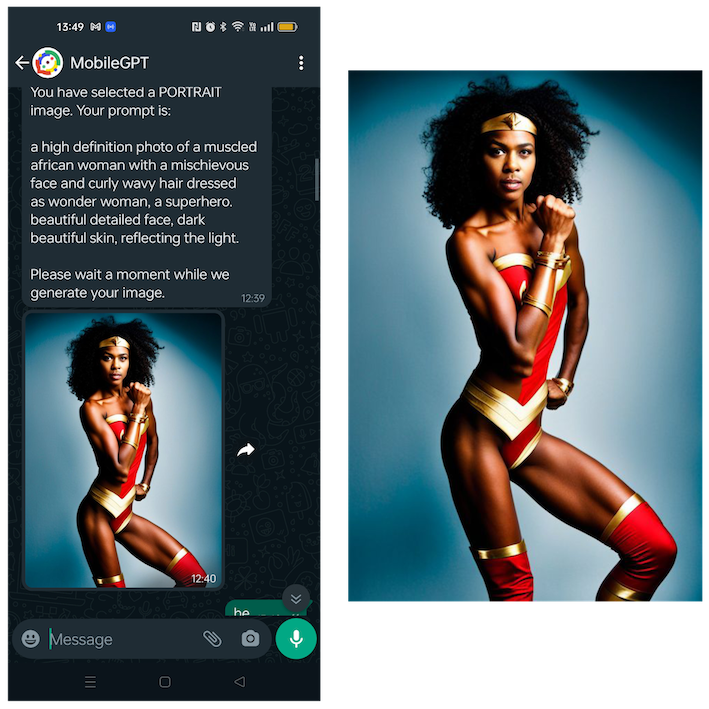 AI Art 🎨 Generation: Stable Diffusion
MobileGPT🤖 leverages multiple APIs to produce exceptional AI images and artwork. With the integration of Stable Diffusion XL, the platform now offers superior quality image generation capabilities.
Hyper-Realistic Image Generation 🌟
Transform your text prompts into unbelievably lifelike visuals with MobileGPT🤖 and Stable Diffusion XL! 🏞️🌃
Experiment with Different Styles 🚀
Unleash your inner artist and explore various creative styles using MobileGPT🤖 and Stable Diffusion XL. 🎨✨
Customizable Aspect Ratios 🔧
Create perfectly tailored visuals with customizable aspect ratios using MobileGPT🤖 and Stable Diffusion XL. 🖼️📱🎉
MobileGPT🤖 is a paid subscription service
Hold up! 🙌 You get a 24-hour free trial on us 🎉 So, go ahead, give it a spin and see if MobileGPT🤖 is the perfect fit for you 😎.
MobileGPT🤖 Subscription 🚀💼
$20.00
per month
Unlimited chat with AI assistant 🤖💬

Generate unlimited documents 📄✨

Get editable documents in Word format 📝🔄

Generate unlimited images 🎨🖼️

Secure WhatsApp Access 🔐📱

24/7 availability ⏰🌍

Custom AI image styles 👩‍🎨🔧

Access to new features and improvements 🆕📈

Multi-language support: chat and documents 🌎🗣️
Chat 💬 with MobileGPT🤖
Frequently Asked Questions (FAQs 🤔)
MobileGPT is a revolutionary WhatsApp application that integrates the advanced capabilities of the GPT-4 engine to provide users with a personal AI assistant directly on their mobile devices. MobileGPT offers seamless AI conversations similar to ChatGPT, AI-generated images, AI-crafted documents in Word format, and advanced language translations. By bringing these powerful AI features to WhatsApp, MobileGPT aims to transform the way users communicate, create, and collaborate on-the-go, enhancing their overall messaging experience.
MobileGPT works by utilizing the cutting-edge GPT-4 engine to provide AI-powered features within the WhatsApp application. MobileGPT processes user inputs and leverages the GPT-4 engine to generate appropriate responses or outputs, such as AI-generated images, AI-crafted documents, and language translations. The AI assistant operates within the familiar WhatsApp interface, making it easy for users to access advanced AI capabilities on-the-go and enhance their communication, creativity, and productivity.
With MobileGPT, you can create a wide range of documents in Word format, thanks to the advanced capabilities of the GPT-4 engine. The AI assistant can help you draft, edit, or summarize various types of content, including:
Reports and summaries
Blog posts and articles
Meeting notes and agendas
Letters and emails
Creative writing
Marketing and promotional content
The GPT-4 engine brings significant improvements in various aspects of MobileGPT's capabilities. With enhanced language understanding, context-awareness, and creativity, the GPT-4-powered MobileGPT offers more human-like and coherent AI conversations, better AI-generated images with greater precision and detail, improved AI-crafted documents with better structure and language quality, and more accurate language translations that consider language nuances and context.
No, MobileGPT🤖 is a paid service that costs $20.00 per month until you cancel it. However, we offer a free 24-hour trial so you can try it out and see if it's the right fit for you.
Yes, your data is safe with MobileGPT. We employ industry-standard security measures to protect your data and ensure its privacy. Additionally, we do not store any of the documents created on our servers. For more information on our data protection practices, please refer to our privacy policy at https://MobileGPT🤖.io/privacy/.
MobileGPT🤖 is powered by the same advanced AI language model as ChatGPT, one of the most advanced language models available today. With MobileGPT🤖, you'll have access to the same cutting-edge technology, now on your mobile device.
Yes, you can use MobileGPT🤖 on multiple devices as long as they are all connected to the same WhatsApp account. This makes it easy to switch between devices and stay connected to your personal AI assistant.
MobileGPT🤖: Your Ultimate AI Buddy ChatAssistant📱
Boosted Conversations 💬
Enjoy smarter, context-aware chats powered by GPT-3.5-turbo and GPT-4 engines 🚀
24/7 Availability 🕒
Never feel alone, have your AI assistant by your side anytime, anywhere 🌎
Multilingual Support 🌐
Effortlessly communicate in multiple languages with our AI Buddy ChatAssistant 🈴
Knowledge at Your Fingertips 📚
Swiftly access information on various topics through your AI assistant 🔍
Chat 💬 with MobileGPT🤖‍💻